Fujitsu - Bonus Offer 2021


WHEN THE TEMPERATURE HITS YOU JUST GET A FUJITSU!
Fujitsu General is excited to launch this years campaign alongside the popular Fujitsu Free Money Promotion. Customers who purchase an eligible Fujitsu air conditioner from Saturday 1st May to Tuesday 31st August 2021, will receive a digital prepaid Mastercard valued up to $450 (via redemption)
PROMOTIONAL PERIOD
Promotion runs from 9:00am AEST Saturday 1st May to 4:59pm AEST Tuesday 31st August 2021. • Claims close 4:59pm AEDT Friday 29th October 2021. This offer is strictly available for purchases made for domestic household use only (businesses excluded)
HOW DOES IT WORK?
Once a customer purchases and fully pays for their eligible product during the promotional period, they simply need to complete their claim online by 4:59pm AEDT Friday 29th October 2021. Please note that the purchase of any one (1) Fujitsu Reverse Cycle Inverter Multi-Head Split System entitles the claimant to only one (1) relevant Fujitsu prepaid digital or physical Mastercard in respect to that purchase. It is essential that you staple a copy of the Fujitsu Free Money A5 flyer to your customer's receipt so that the following process is clear and there is no ambiguity when it comes to claiming their reward.
HOW DOES A CUSTOMER CLAIM?
1. Customer purchases and fully pays for an eligible product between 01/05/21 - 31/08/21.
2. Customer visits the promotion web page at fujitsugeneral.com.au/promotions to lodge their claim.
3. Customer enters all required information including the outdoor model and serial numbers and indoor model number to complete their claim.
4. Customer uploads a copy of their proof of purchase (i.e. a valid tax invoice or purchase receipt), and proof of payment (i.e. a transaction or EFT receipt, bank statement or credit card slip) showing the purchase. Note: If the unit was purchased and paid for in cash, this must be clearly displayed on the invoice.
5. The customer will then be prompted to select their preferred reward option (digital or physical prepaid Mastercard).
PLEASE NOTE: If a customer has purchased an Eligible Product for their domestic/residential use during the Promotional Purchase Period but have not yet had it delivered or installed, and therefore cannot locate the outdoor serial number in time to make a valid claim, they must contact Fujitsu in writing via https://www.fujitsugeneral.com.au/help-centre/contactus prior to 4:59pm AEDT on 29/10/21 so that alternative arrangements for reward issue can be made. No claims will be accepted under any circumstances after 4:59pm AEDT on 29/10/21.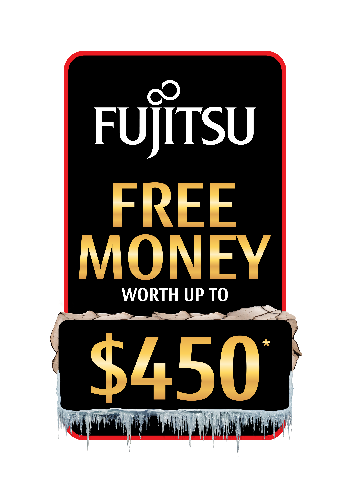 IF A DIGITAL PREPAID MASTERCARD IS SELECTED:

1. Claim is validated within four (4) weeks of submission.

2. Customer will be sent an email notification of claim approval.

3. The digital prepaid Mastercard will be delivered within one (1) week of claim approval via SMS to the Australian mobile phone number submitted with the claim.

4. The digital prepaid Mastercard needs to be activated within three (3) months by following the link to access the Vault Payments Application via the App store that is sent in the SMS with their digital prepaid Mastercard activation code.

IF A PHYSICAL PREPAID MASTERCARD IS SELECTED:

1. Claim is validated within four (4) weeks of submission.

2. Physical prepaid Mastercard is mailed to the customer's address within four (4) weeks from claim approval notification.

3. Card must be activated prior to use and no later than one (1) month prior to the card expiry date as printed on the front of the card by visiting https://ffmrewards.com.au.

4. Full instructions are provided in the letter sent with the card.